The latest version of this Privacy Policy is from 02/08/23. We reserve the right to change this Privacy Policy without further notice. Please make a copy of this page and check it out regularly in order to stay up to date with the current changes in this Privacy Policy.
The privacy of your personal data is important to us and in order to show why and how we collect information about you, we developed this Privacy Policy. It also includes essential details on how we process and safeguard your personal data. We do it strictly by following these requirements and regulations:
The Regulation (EU) 2016/679 (or 'GDPR')
Directive 2002/58/EC
The Privacy and Electronic Communications Regulations 2003
The Data Protection Act 1998
The Data Protection Act 2018
We would like to provide you all the topics in our Privacy Policy on one page, so you can be fully informed and completely aware of the occasions and of the fact that we may collect personal data about you. That's why it is important to read this page to the end and it is recommended to do it before using the services of The Site.
1. Types of Personal Data We Collect
The Site collects two types of personal data – from your devices when you access the website, and data provided voluntarily by you. This Privacy Policy has a broader coverage about your personal data including and not limited to your name and surname, date of birth, email address, phone number, address and postcode. Such information is considered personal data only when it concerns your real ID. It can be subdivided into:
Non-personal information – we collect it through your use of The Site, which we use for statistical purposes and for improving our services.
Personal information – this type of information is considered personal or that identifies a person.
Combined information – we can also collect personal and non-personal data at once, and in this case, it will be processed as personal information.
2. The Ways We Collect Your Personal Data
There are two main ways in which The Site collects personal data:
2.1 Automatically from Your Device
The primary source of this personal data are cookies and/or other similar tools, which we collect at the moment when you access The Site. It can be collected from any device (computers, mobile phones, tablets) via your web browser, which sends information to our server in the form of log files. You don't need to do any further actions, because this type of information is stored automatically and it is deleted automatically as well. It includes information about:
Your IP address
Time/date of accessing The Site
The referring URL address
Your IP address
Type/version of your browser
2.2 Voluntarily Provided by You
This type of personal data can be collected when you contact us via email or another contact form. In this case, we provide you with the option not to provide such information, as required under the data protection legislation. We can collect this type of data via newsletters and through our contact form:
Newsletter Subscription
We give you the option to subscribe voluntarily to our newsletter. If you do so, you will have to enter your email address during the registration process and we will send you an activation link. Once you activate the service, only then we will use your email as personal information and only then we will add it to our mailing list.
Contact Form
The way we collect your personal data from our contact form is very similar to the email subscription. You can reach us at privacy@onlinecasinopakistan.com any time to send your questions and recommendations or just to talk to an expert. In this case, we can collect the data you provided to us voluntarily, i.e.: email address, your name and surname, IP address and date and time of the enquiry.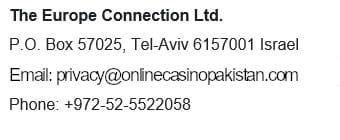 2.1 Cookies Policy
Cookies are small files of information which are created automatically when you access The Site. We use cookies and other similar tracking tools to collect personal information about you. The cookies are stored on your device, enabling it to remember a wide variety of actions made by you, in order to improve your experience on further visits of The Site. Examples of the stored cookie information include and are not limited to the font of your browser and your display settings. Other examples include your browser language, IP address, the operating system and the type of your browser.
These cookies are not harmful to your device and they don't contain any viruses or malware. We can use third-party cookies such as Geo IP Detection which retrieve user's geo-location and information based on Maxmind Database. Please visit https://wordpress.org/plugins/geoip-detect/ if you want to find out more information about how this third-party cookies store personal information. Also, we use informative YouTube videos. When you watch a video, YouTube's servers automatically store cookies on your web browser. We are not responsible for any changes about the cookies stored by YouTube, but you can delete them at any time from your web browser settings. Please read the full YouTube Privacy Policy to learn more about how their cookies are stored.
3. Reasons to Collect Your Personal Data
The Site collects personal data for a couple of important reasons, mainly to optimize the provided services and to improve the user experience. These reasons include:
To provide you with effortless and smooth connection with The Site
To display specific advertisement based on your interests
To ensure that The Site and our services work properly
For evaluation of the security and stability of The Site
For administrative purposes and databases
You can always opt-out from the way we use your personal data. If you don't do so, your personal data is stored only during the moment when you visit The Site and, after that, it is deleted. We also use your personal data to enhance our support services and to be able to provide you with a quick and effective response to your questions.
We will not transfer your personal data to third parties, except the cases described by the applicable legislation. If you want a copy of these documents, please contact us at privacy@onlinecasinopakistan.com.
4. Customer Protection and Your Rights
The visitors of The Site have the following rights:
To request a copy of your personal data stored on our servers
To obtain information about how and what personal data we store about you
To restore and/or correct any of your personal information
To restrict further collection and processing of your personal data
To delete your personal information in the case when it is no longer needed
To raise an objection against the ways your personal data is automatically collected
To object to the use of your data
4.1 Security of Your Personal Data
The Site uses a standard SSL (Secure Socket Layer) encryption, which is a technology that encrypts your personal and other information exchanged between your web browser and our server. You can verify this by checking out the beginning of the URL of The Site which should begin with 'HTTPS', or by the 'lock' icon that should appear on different places near the URL depending on the type of the web browser you use.
According to the applicable legislations, your IP address is considered personally identifiable information and we will do our best to protect it and to prevent it from any fraudulent activities. The Site also uses other industry-standard security measures to protect your personal data against unauthorised access, partial or complete loss, manipulation, and other deliberate actions